CV076 - A Tile Square (US)
For the puzzle appearing in the UK version, see CV076 - Flower Garden (UK)
This is the seventy-sixth puzzle that appears in the US version of Professor Layton and the Curious Village. To access this puzzle, you must talk to Pauly. In order to solve this puzzle, you must determine the fewest number of tiles you would need to make a square.
[edit]
Messages
[edit]
When Failed
That's not the answer.
Try approaching the puzzle from a different angle and see where that takes you.
[edit]
When Completed
Good work!
The key to this problem is realizing that the tiles have depth to them. Once you understand that you have a third dimension to work with, the rest should fall into place for you.
[edit]
Solution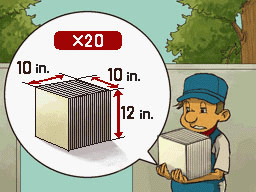 20 tiles are needed to make a square.
[edit]
Progress
2845 Picarats and 143 Hint Coins.