CV080 - Too Many Queens 1
This is the eightieth puzzle that appears in Professor Layton and the Curious Village. To access this puzzle, you must talk to Flick. In order to solve this puzzle, you must place the queen pieces on the board so that no two pieces are placed in the same column, row, or diagonal.
[edit]
Messages
[edit]
When Failed
You cannot fail this puzzle.
[edit]
When Completed
Nicely played!
Chess queen problems like this one have been around for over a century. This is a relatively simple variation of this type of puzzle. Consider it an introduction to the genre.
[edit]
Solution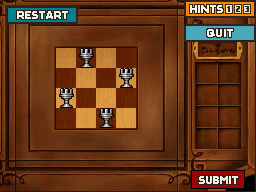 Arrange the queens as shown.
[edit]
Progress
2985 Picarats and 144 Hint Coins.
Related Threads
Too Many Queens 3
- last post @ Apr 28, 2008