CV089 - Which Way?
This is the eighty-ninth puzzle that appears in Professor Layton and the Curious Village. To access this puzzle, you must examine the stone tablet on the back wall. In order to solve this puzzle, you must find the arrow in the picture.
[edit]
Messages
[edit]
When Failed
Too bad!
Take another careful look at the picture. Don't forget to trace the figure neatly.
[edit]
When Completed
Well done!
Now you can move forward.
[edit]
Solution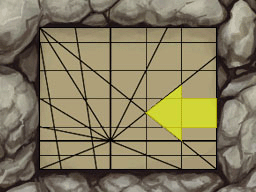 Highlight the area as shown.
[edit]
Progress
3535 Picarats and 181 Hint Coins.