CV092 - Wash Up
This is the ninety-second puzzle that appears in Professor Layton and the Curious Village. To access this puzzle, you must talk to Sylvain. In order to solve this puzzle, you must open the fewest number of valves to allow the water to flow into the sink.
[edit]
Messages
[edit]
When Failed
Too bad!
The pipes are a mess, but give it another look anyway.
[edit]
When Completed
Good job!
Now go wash up!
[edit]
Solution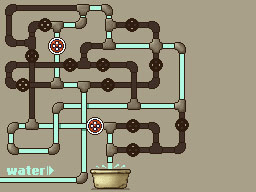 Open the valves as shown.
[edit]
Progress
3655 Picarats and 189 Hint Coins.