CV096 - On the Stairs (UK)
For the puzzle appearing in the US version, see CV096 - Take the Stairs (US)
This is the ninety-sixth puzzle that appears in the UK version of Professor Layton and the Curious Village. To access this puzzle, you must talk to Pavel. In order to solve this puzzle, you must use the statements to determine who is Jim.
[edit]
Messages
[edit]
When Failed
Too bad!
[edit]
When Completed
That's right!
Jim is D. Steve and Mike are next to each other, and Tom is above Steve. Since you know Jim is not next to Tom, he must be on the lowest step, so he is D.
A is Tom, and Steve and Mike are B and C, although there is no way of knowing which is which with this information.
[edit]
Solution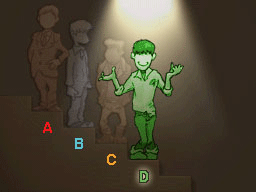 Jim is D.
[edit]
Progress
3935 Picarats and 194 Hint Coins.