CV098 - Card Order
This is the ninety-eighth puzzle that appears in Professor Layton and the Curious Village. To access this puzzle, you must talk to Martha. In order to solve this puzzle, you must use the clues given to determine the arrangement of the cards.
[edit]
Messages
[edit]
When Failed
Give it another try.
Keep all the listed conditions in mind when thinking up your answer.
[edit]
When Completed
Excellent!
Only a strong grasp of the principles of logic can get you through a puzzle like this.
[edit]
Solution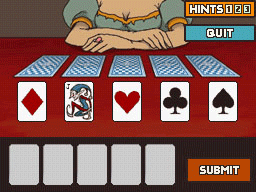 Arrange the cards a shown.
[edit]
Progress
4035 Picarats and 196 Hint Coins.