CV100 - Seven Squares
This is the one hundredth puzzle that appears in Professor Layton and the Curious Village. To access this puzzle, you must examine the lock on the bars. In order to solve this puzzle, you must use each pin once to form seven different squares on the board.
[edit]
Messages
[edit]
When Failed
Try again!
[edit]
When Completed
That's right!
Tracking down all those tilted squares was pretty fun, wasn't it?
[edit]
Solution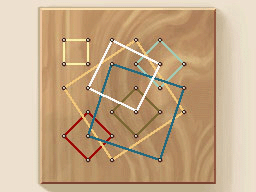 Draw the squares as shown.
[edit]
Progress
4175 Picarats and 198 Hint Coins.