CV102 - Aces and the Joker
This is the one hundred and second puzzle that appears in Professor Layton and the Curious Village. To access this puzzle, you must talk to Martha. In order to solve this puzzle, you must determine the percentage chance that all four aces will be turned over before the joker is turned over.
[edit]
Messages
[edit]
When Failed
Too bad.
Don't worry! You don't need to bother with complex calculations to solve this one!
[edit]
When Completed
That's right!
While it may seem like you need to take other cards into account, no card in the deck, save the joker and four aces, plays any part in calculating the percentage.
Knowing that you only have to deal with five cards in your calculations, the rest is easy. You have five cards to flip, and you need one of the those five cards to be last. So your answer is one out of five, or 20 percent.
[edit]
Solution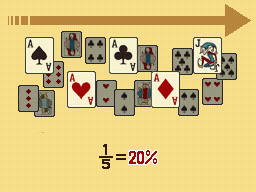 There is a 20% chance the joker will be flipped last.
[edit]
Progress
2785 Picarats and 138 Hint Coins.