CV103 - Wood Cutouts
This is the one hundred and third puzzle that appears in Professor Layton and the Curious Village. To access this puzzle, you must talk to Gordon. In order to solve this puzzle, you must cut the wood into four identical pieces, making sure no piece is a mirrored version.
[edit]
Messages
[edit]
When Failed
Give it another try!
This puzzle would be a piece of cake if you could use mirrored versions of the shape, but you'll just have to try and solve it as is.
[edit]
When Completed
That's right!
Once you got the shape of the pieces, it wasn't so difficult. But it wasn't all that easy to find them within the wood, was it?
[edit]
Solution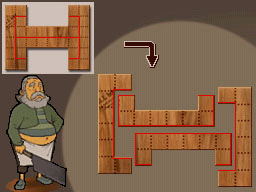 Cut the wood as shown.
[edit]
Progress
2115 Picarats and 117 Hint Coins.