CV106 - How Many Glasses?
This is the one hundred and sixth puzzle that appears in Professor Layton and the Curious Village. To access this puzzle, you must examine the bottle on the bottom-right shelf. In order to solve this puzzle, you must determine how many cups must be picked up to get the arrangement on the top row looking like the bottom row.
[edit]
Messages
[edit]
When Failed
Nope!
Think about how many cups you really need to move to finish your task.
[edit]
When Completed
That's right!
Pour the contents of the second cup into the fourth cup and then return it to its original position as shown above. This way, the task set before you can be completed in one move.
[edit]
Solution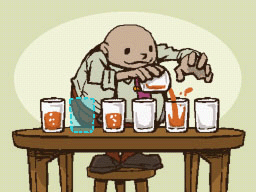 Only one cup must be picked up.
[edit]
Progress
1740 Picarats and 96 Hint Coins.