CV110 - The Vanishing Cube
This is the one hundred and tenth puzzle that appears in Professor Layton and the Curious Village. To access this puzzle, you must examine the chandelier. In order to solve this puzzle, you must move one matchstick to change the four cubes into three.
[edit]
Messages
[edit]
When Failed
No...
The arrangement of the matches fools your eyes into thinking that you're looking at four cubes. How can you fool your eyes into seeing three cubes instead?
[edit]
When Completed
Brilliant!
Moving a single matchstick completely changes your perspective on the shape. Was it difficult thinking about things in 3-D?
[edit]
Solution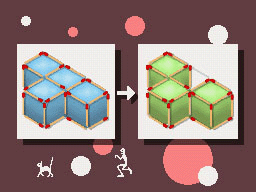 Move the matchstick as shown.
[edit]
Progress
320 Picarats and 31 Hint Coins.