CV111 - Making a Square (UK)
For the puzzle appearing in the US version, see CV111 - Mystery Item (US)
This is the one hundred and eleventh puzzle that appears in the UK version of Professor Layton and the Curious Village. To access this puzzle, you must examine the sign above the barrel. In order to solve this puzzle, you must determine which piece cannot be combined with the others to make a square.
[edit]
Messages
[edit]
When Failed
Too bad!
[edit]
When Completed
That's right! D is not used.
Maybe this was too easy...
[edit]
Solution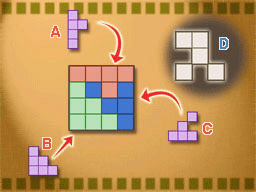 D is not used.
[edit]
Progress
750 Picarats and 46 Hint Coins.