CV111 - Mystery Item (US)
For the puzzle appearing in the UK version, see CV111 - Making a Square (UK)
This is the one hundred and eleventh puzzle that appears in the US version of Professor Layton and the Curious Village. To access this puzzle, you must examine the sign above the barrel. In order to solve this puzzle, you must move one match to find the answer to the riddle.
[edit]
Messages
[edit]
When Failed
Too bad!
You probably have this in your own home as well. A little bit of it disappears every day.
Of course, depending on the household, a lot can disappear in one day, too.
[edit]
When Completed
That's right!
The answer is FOOD.
Make sure you visit the grocery store before you run out of snacks!
[edit]
Solution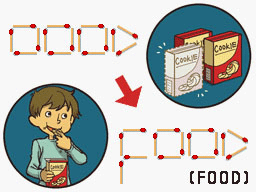 Move the matchstick as shown.
[edit]
Progress
750 Picarats and 46 Hint Coins.