CV112 - My Beloved
This is the one hundred and twelfth puzzle that appears in Professor Layton and the Curious Village. To access this puzzle, you must examine the picture above Beatrice. In order to solve this puzzle, you must find the painter's "beloved" in the painting by rotating and moving each piece.
[edit]
Messages
[edit]
When Failed
Try it again!
[edit]
When Completed
That's right!
The silhouette of the artist's true love was hidden in his painting. The painting must have been a tribute to his love for her...or for himself.
[edit]
Solution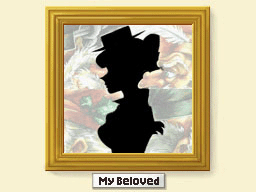 Arrange the pieces as shown.
[edit]
Progress
570 Picarats and 40 Hint Coins.