CV114 - Tetrahedron Trial
This is the one hundred and fourteenth puzzle that appears in Professor Layton and the Curious Village. To access this puzzle, you must examine the hanging meat. In order to solve this puzzle, you must determine which piece fits with the tetrahedron net, making sure the red and blue lines remain unbroken.
[edit]
Messages
[edit]
When Failed
Try again!
Take another look at the arrangement.
[edit]
When Completed
Excellent!
Three-dimensional visualization is crucial to solving this puzzle.
[edit]
Solution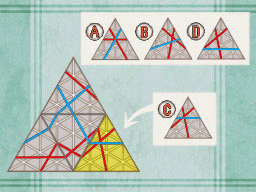 C fits into the tetrahedron.
[edit]
Progress
1835 Picarats and 108 Hint Coins.