CV115 - Odd Box Out
This is the one hundred and fifteenth puzzle that appears in Professor Layton and the Curious Village. To access this puzzle, you must examine the stall's right window. In order to solve this puzzle, you must determine which box has a different design to the other three.
[edit]
Messages
[edit]
When Failed
Nope!
Try to picture how the boxes look unfolded.
[edit]
When Completed
Good thinking!
If you break down boxes A, B, and C, you can see that they all share the same arrangement of decorations.
However, when you break down box D, you can see that its faces are arranged in a slightly different manner, and might look something like the above diagram. However, you can't know for sure, because the other three faces of box D are unknown.
[edit]
Solution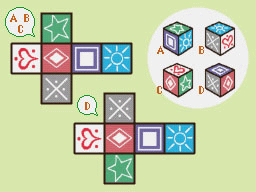 Box D is different.
[edit]
Progress
3375 Picarats and 165 Hint Coins.