CV121 - Diamond in the Flag
This is the one hundred and twenty-first puzzle that appears in Professor Layton and the Curious Village. This puzzle can be accessed through Professor Layton's Challenges. In order to solve this puzzle, you must determine how much of the flag is taken up by the diamond, expressed as a fraction.
[edit]
Messages
[edit]
When Failed
Not quite.
Remember, don't bother with complex math to find a solution. Look closely at the diagram.
[edit]
When Completed
Nicely done!
The measurements on each area of the diagram are the key to this puzzle. If you draw a line or two to supplement the diagram's information, it's easy to see that the diamond represents one-eighth of the flag's area.
[edit]
Solution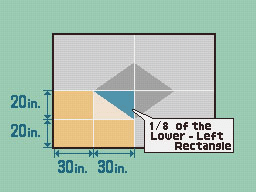 The diamond takes up one-eighth of the flag.
[edit]
Progress
4235 Picarats and 200 Hint Coins.