CV123 - Tons of Triangles
This is the one hundred and twenty-third puzzle that appears in Professor Layton and the Curious Village. This puzzle can be accessed through Professor Layton's Challenges. In order to solve this puzzle, you must determine how many different triangles are hidden within the diagram.
[edit]
Messages
[edit]
When Failed
Give it another shot!
Spotting triangles may seem easy, but there are quite a few to find here. Look carefully.
[edit]
When Completed
Great job!
You can see the complete list of triangles above. For such a simple picture, that's a lot of triangles!
[edit]
Solution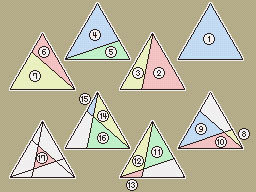 There are 17 triangles in the diagram.
[edit]
Progress
4355 Picarats and 200 Hint Coins.