CV124 - Missing Number (US)
For the puzzle appearing in the UK version, see CV124 - The Rope Ladder (UK)
This is the one hundred and twenty-fourth puzzle that appears in the US version of Professor Layton and the Curious Village. This puzzle can be accessed through Professor Layton's Challenges. In order to solve this puzzle, you must determine which number fits in the sequence.
[edit]
Messages
[edit]
When Failed
Try again!
As mentioned before, the numbers are aligned according to a certain principle. Figure out the rule and the answer is in the bag.
[edit]
When Completed
Very good!
The string of numbers represents the dates from the end of one year to the beginning of the next!
[edit]
Solution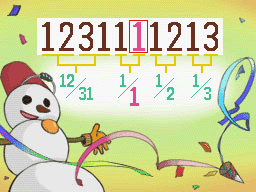 The number 1 fits in the empty space.
[edit]
Progress
4425 Picarats and 200 Hint Coins.