CV133 - Finish the Equation
This is the one hundred and thirty-third puzzle that appears in Professor Layton and the Curious Village. This puzzle can be accessed through Professor Layton's Challenges. In order to solve this puzzle, you must arrange the numbers to create a valid equation.
[edit]
Messages
[edit]
When Failed
Give it another try!
Don't get frustrated with the puzzle. Stick with it and you will find the solution.
[edit]
When Completed
Sharp thinking!
You have to think in fractions to solve this one. If you don't realize this early on, this puzzle can really be a bear to solve.
[edit]
Solution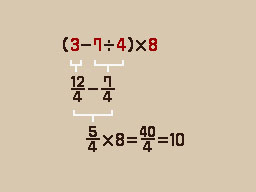 Arrange the numbers as shown.
[edit]
Progress
5133 Picarats and 200 Hint Coins.