CV134 - Land Disputes
This is the one hundred and thirty-fourth puzzle that appears in Professor Layton and the Curious Village. This puzzle can be accessed through Professor Layton's Challenges. In order to solve this puzzle, you must divide the land into four plots, so that they are each the same shape and each contain a house and a well.
[edit]
Messages
[edit]
When Failed
Nope, try again!
If you don't solve this land dispute for these folks, they might never stop fighting.
[edit]
When Completed
That's correct!
Finally, an end to the bickering!
Dividing the land like that doesn't seem very sensible, but if it keeps the owners happy, you can't really complain, can you?
[edit]
Solution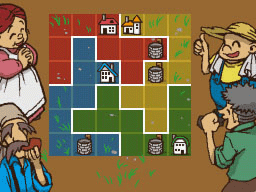 Divide the land as shown.
[edit]
Progress
5213 Picarats and 200 Hint Coins.