Chiaro Obscuro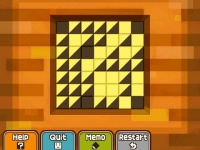 Chiaro Obscuro is a set of daily puzzles released for Professor Layton and the Azran Legacy. It is the eighteenth set of daily puzzles.
"Transform triangles into squares using the museum panels."
[edit]
How to Solve
Simply tap a square on the board to rotate it. All the light parts of the board must be arranged so that they all form squares or rectangles.
You must form complete rectangles or squares to solve the puzzle.
[edit]
List of Puzzles