Clark Triton
Clark Triton is a character that appeared in Professor Layton and the Last Specter and Professor Layton and the Azran Legacy. He has a wife, Brenda and a son, named Luke. He is also good friends with Professor Layton.
[edit]
Appearance
Clark has light brown hair - same as Luke - and a light brown beard. He wears a blue suit with a pale pink tie and brown shoes.
[edit]
Puzzles
Although Clark does not appear in the game, during the end of Unwound Future he quits his job at Gressenheller University and has to work away from London. This results in an emotional Luke, leaving Professor Layton and Flora Reinhold to set sail, leaving them.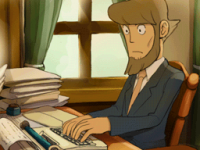 Clark sends a letter to Layton to tell him that a Specter is here to protect the town. However, the Specter has been destroying the town, so he sends another letter to Layton, asking him for help. It was later revealed that Luke was sending the letters.
Clark's wife Brenda Triton and butler Doland Noble were kidnapped before the game started. He was told to keep quiet about their whereabouts (The Basement) otherwise, they would get harmed.
Clark may have alerted Professor Layton to have someone unleash the true cause of the Specter and Jean Descole's devious disguise and that everything can be halted and to let him start on a clean slate.
[edit]
Biography

"Luke's father and town mayor, Clark once studied archaeology alongside Layton. He cherishes his family above all, and it was this weakness that allowed Descole and his minions to manipulate him. His letters are always handwritten."



"Clark is an old friend of Layton's, and is Luke's rather doting father. Clark's archaeological surveys have been responsible for a number of discoveries, and have made him famous as a result. He currently works in carbon dating, another field in which he is highly regarded."