Crumpet Hotel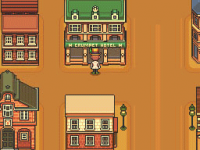 The Crumpet Hotel is a hotel found in Professor Layton's London Life. It has three workers, Matthew, Becky and Krantz who have all appeared as either house-keepers or hotel staff in the Professor Layton Series. The hotel requires the player to have be wearing an outfit that is at least 40 formality or more. It is located central in London. The hotel inside looks very lavish, it has fine, oak furniture. When entering the hotel, the player is greeted by 6 sets of chairs and tables. The chairs are dark green and the tables are mahogany brown. The hotel is complete with cream walls and a lighter green carpet with a pattern in the centre of it.
[edit]
Residents
[edit]
Other Images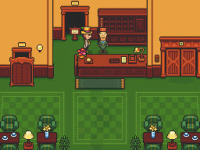 Last edited by
Aurigae
on 13 June 2012 at 11:02
This page has been accessed 270 times.