DB002 - The Doctor's Home
This is the second puzzle you will encounter in Professor Layton and the Diabolical Box. To access this puzzle, you must have solved the puzzle Dr. Schrader's Map and watched the cut scene. In order to solve this puzzle, you must determine which window Dr. Schrader views the sunrise from using his description.
[edit]
Messages
[edit]
When Failed
Too bad!
Take another look at what the doctor has to say about where he lives.
[edit]
When Completed
That's right!
Now that you know where it is, head for the doctor's home!
[edit]
Solution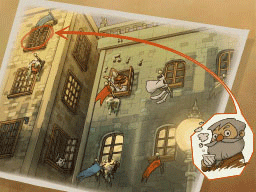 Circle the window as shown.
[edit]
Progress
25 Picarats and 10 Hint Coins.