DB005 - Luke's Trunk
This is the fifth puzzle you will encounter in Professor Layton and the Diabolical Box. To access this puzzle, you must examine the open trunk. In order to solve this puzzle, you must place Luke's items back into the trunk without having anything overlap.
[edit]
Messages
[edit]
When Failed
Too bad!
Are you sure some items aren't overlapping with each other?
[edit]
When Completed
Good work!
Luke should be able to close the bag easily now.
[edit]
Solution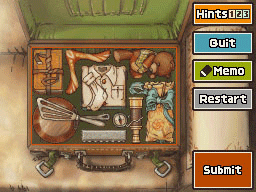 Arrange the items as shown.
[edit]
Progress
105 Picarats and 19 Hint Coins.