DB008 - Luke's Big Dinner
This is the eighth puzzle you will encounter in Professor Layton and the Diabolical Box. To access this puzzle, you must talk to Chester. In order to solve this puzzle, you must determine which items Luke ordered, making sure his items cost double the amount of what Professor Layton ordered.
[edit]
Messages
[edit]
When Failed
Too bad!
Perhaps you aren't going about this the right way. Why don't you try a different approach?
[edit]
When Completed
Good work!
If you calculate the total tab, you'll see that the meal cost 105 pounds. Knowing the total, Luke must have ordered 70 pounds' worth of food, and the professor 35. Once you've got those numbers, the rest is easy.
"Are you sure you didn't order too much?"
"Nope! This stew's great, and this steak's--CHOMP--great too!"
"Well then...eat up, I suppose."
[edit]
Solution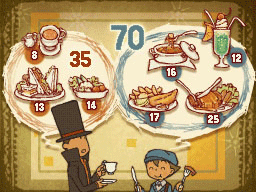 Circle the items on the right as shown.
[edit]
Progress
295 Picarats and 33 Hint Coins.