DB010 - A Work of Art
This is the tenth puzzle you will encounter in Professor Layton and the Diabolical Box. To access this puzzle, you must enter the area. In order to solve this puzzle, you must determine the fewest number of colors that can be used in the painting without having adjacent areas being of the same color.
[edit]
Messages
[edit]
When Failed
Too bad!
Think about it and have another shot.
[edit]
When Completed
That's right!
You'll need three colors to fill in the drawing. Most of the drawing can be done with two colors, but one pesky area in the lower-left corner requires a third color to complete.
[edit]
Solution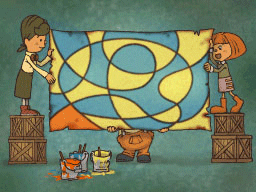 The drawing requires three colors to complete.
[edit]
Progress
270 Picarats and 33 Hint Coins.