DB011 - Trees in the Forest
This is the eleventh puzzle you will encounter in Professor Layton and the Diabolical Box. To access this puzzle, you must enter the area. In order to solve this puzzle, you must divide the area into four sections, making sure each has the four different types of trees in them.
[edit]
Messages
[edit]
When Failed
Too bad!
Don't panic if you get stuck. Just look for areas where all four types of trees are connected one after the other.
[edit]
When Completed
Very nice!
Now take a moment to admire the gorgeous scenery!
[edit]
Solution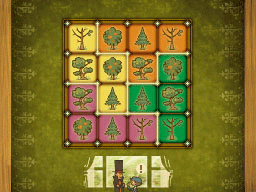 Divide the trees as shown.
[edit]
Progress
210 Picarats and 31 Hint Coins.