DB013 - On Your Plate
This is the thirteenth puzzle you will encounter in Professor Layton and the Diabolical Box. To access this puzzle, you must talk to Macaroon. In order to solve this puzzle, you must determine how much bigger the large triangle is compared to the smaller one.
[edit]
Messages
[edit]
When Failed
Too bad!
Focus your attention on the smaller of the two triangles.
[edit]
When Completed
That's right!
If you think to flip the little triangle around as shown, it should only take a moment to realize that four of the smaller triangles will fit in the larger one.
[edit]
Solution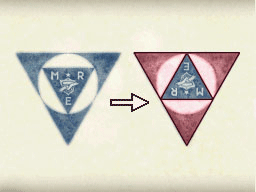 The bigger triangle is four times larger than the smaller triangle.
[edit]
Progress
320 Picarats and 33 Hint Coins.