DB017 - The Worker Ant
This is the seventeenth puzzle you will encounter in Professor Layton and the Diabolical Box. To access this puzzle, you must examine the sugar bowl. In order to solve this puzzle, you must determine the longest route that can be taken between the starting point and the nest, without taking the same path twice.
[edit]
Messages
[edit]
When Failed
Too bad!
Think hard about the puzzle and try again.
[edit]
When Completed
That's right!
Perhaps all the heavy lifting kept this little ant from thinking about his path home. If only he'd thought about where he was going, he could have saved himself a lot of walking!
[edit]
Solution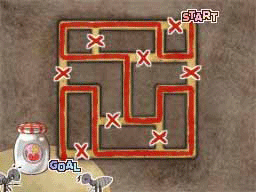 Map the route as shown.
[edit]
Progress
130 Picarats and 19 Hint Coins.