DB020 - The Shoe Store Thief
This is the twentieth puzzle you will encounter in Professor Layton and the Diabolical Box. To access this puzzle, you must talk to Inspector Chelmey. In order to solve this puzzle, you must determine how much money the shoe-store clerk lost.
[edit]
Messages
[edit]
When Failed
Too bad!
Think hard about the puzzle and try again.
[edit]
When Completed
Well done!
The shoes the customer made off with cost $30, and the change the shoe clerk gave her cost him $20, bringing the shoe clerk's total losses to $50.
The shoe clerk received $50 in real money when he swapped the fake bill for change but had to return this same $50 when the counterfeit bill was discovered. This means these two transactions effectively cancelled each other out.
[edit]
Solution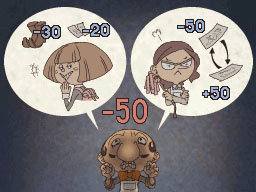 The shoe clerk lost $50.
[edit]
Progress
345 Picarats and 33 Hint Coins.