DB021 - Pass It On!
This is the twenty-first puzzle you will encounter in Professor Layton and the Diabolical Box. To access this puzzle, you must talk to Mitzi and Capone. In order to solve this puzzle, you must determine the shortest amount of time it will take to communicate a message along to seven other people.
[edit]
Messages
[edit]
When Failed
Too bad!
Are you sure you're not being led astray by the working of the puzzle?
[edit]
When Completed
Very nice!
If the original messenger spreads the word as shown above, the game can be completed in three minutes. During that time, the original messenger can tell three people the message, and the people who hear the message within the first two minutes can go on to become messengers themselves.
When an emergency arises, information networks structured in the above fashion can help get the word out fast.
[edit]
Solution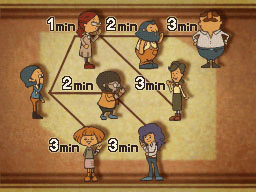 It was take three minutes for everyone to hear the message.
[edit]
Progress
465 Picarats and 35 Hint Coins.