DB023 - Pitchers and Poison
This is the twenty-third puzzle you will encounter in Professor Layton and the Diabolical Box. To access this puzzle, you must examine the pitcher on the table. In order to solve this puzzle, you must determine which the pitcher filled with poison must be placed so that 1 is guaranteed to win by having his pitcher empty.
[edit]
Messages
[edit]
When Failed
Too bad!
Normally, you might need some encouragement to try again at this point, but as there are only two possible answers to this problem, you now know the solution...
Do try to work out the reasoning behind the solution before answering, though!
[edit]
When Completed
Nicely done!
The liquid changes pitchers 55 times, which is an odd number of pours. Regardless of where you set down your pitcher, whichever pitchers sits in the middle of the three will always contain the poison after an odd number of pours.
Therefore, in order for one to win, the poison-filled pitcher must go in spot B, because doing so will put 2's pitcher in the middle, thus guaranteeing the poison ends up in his pitcher.
[edit]
Solution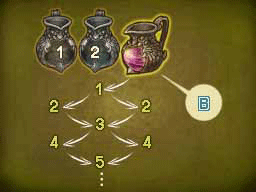 The poison-filled pitcher must start in spot B.
[edit]
Progress
155 Picarats and 25 Hint Coins.