DB025 - Surviving in the Wild
This is the twenty-fifth puzzle you will encounter in Professor Layton and the Diabolical Box. To access this puzzle, you must talk to Hank. In order to solve this puzzle, you must determine which animals made it out of the zoo and into the wild.
[edit]
Messages
[edit]
When Failed
Too bad!
Think hard about the puzzle and try again.
[edit]
When Completed
Sharp thinking!
The only animal that will safely escape to freedom is the lion. While both the rabbit and the lion will make it as far as the path to the exit, the second the lion spots the rabbit, he's guaranteed to eat it.
[edit]
Solution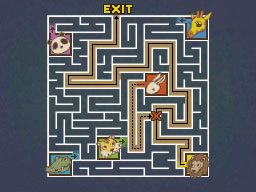 The lion will make it out of the zoo.
[edit]
Progress
445 Picarats and 35 Hint Coins.