DB029 - The Winning Arrow
This is the twenty-ninth puzzle you will encounter in Professor Layton and the Diabolical Box. To access this puzzle, you must examine the left stall. In order to solve this puzzle, you must determine which arrow is holding onto the candy.
[edit]
Messages
[edit]
When Failed
Too bad!
It would appear you fell right into the trap this puzzle set for you.
[edit]
When Completed
Good eye!
Arrow B is the one attached to the candy.
The reason this puzzle is tough for some people is because it contains a famous optical illusion. When you obscure a portion of a diagonal line with a straight shape, the two visible portions of the line appear disjointed from one another.
[edit]
Solution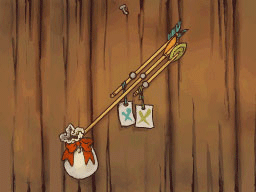 Arrow B is attached to the candy.
[edit]
Progress
635 Picarats and 49 Hint Coins.