DB031 - Pass the Apples
This is the thirty-first puzzle you will encounter in Professor Layton and the Diabolical Box. To access this puzzle, you must talk to Dorothea. In order to solve this puzzle, you must determine how many apples each man is holding.
[edit]
Messages
[edit]
When Failed
Too bad!
Think hard about the puzzle and try again.
[edit]
When Completed
Nice!
Johnny has seven apples and Thomas has five.
As you can tell, if Johnny gave Thomas one apple, both men would have six apples. Additionally, if Thomas decided to give Johnny two of his apples, Johnny would have nine apples in total--three times as many as Thomas.
[edit]
Solution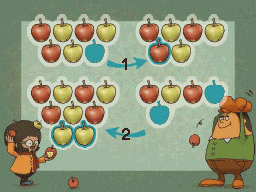 Johnny has seven apples, while Thomas have five apples.
[edit]
Progress
1140 Picarats and 72 Hint Coins.