DB032 - It's a Wrap
This is the thirty-second puzzle you will encounter in Professor Layton and the Diabolical Box. To access this puzzle, you must talk to Laurel. In order to solve this puzzle, you must determine how to start wrapping the flower so that it appears as shown in the drawing.
[edit]
Messages
[edit]
When Failed
Too bad!
Try to visualize wrapping the flower.
[edit]
When Completed
Excellent!
Were you able to follow the paper's transition from a flat shape into a 3-D one?
[edit]
Solution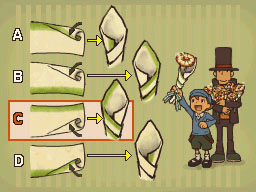 C is the correct way to wrap the flower.
[edit]
Progress
690 Picarats and 54 Hint Coins.