DB033 - Fishing Net
This is the thirty-third puzzle you will encounter in Professor Layton and the Diabolical Box. To access this puzzle, you must talk to Gabe. In order to solve this puzzle, you must determine how many fish were caught in the net.
[edit]
Messages
[edit]
When Failed
Too bad!
Are you sure you're counting them correctly?
[edit]
When Completed
That's right!
To solve this puzzle, you need to imagine how the unseen parts of the net connect, which should look something like the illustration above.
As you can see, the net will catch a total of seven fish.
[edit]
Solution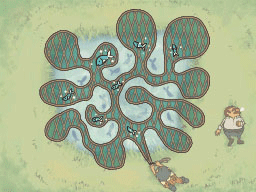 The net will catch seven fish.
[edit]
Progress
955 Picarats and 72 Hint Coins.