DB035 - Which House Where?
This is the thirty-fifth puzzle you will encounter in Professor Layton and the Diabolical Box. To access this puzzle, you must talk to Parcelle. In order to solve this puzzle, you must determine the color of each house by using the clues written.
[edit]
Messages
[edit]
When Failed
Too bad!
Why not revisit each of those four clues and give them another read?
[edit]
When Completed
That's right!
This is one of those puzzles where you need to use the given conditions to deduce the answer.
[edit]
Solution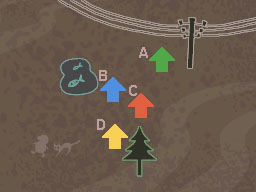 Give each house the colors as shown.
[edit]
Progress
1190 Picarats and 72 Hint Coins.