DB036 - The Trapped Bird
This is the thirty-sixth puzzle you will encounter in Professor Layton and the Diabolical Box. To access this puzzle, you must talk to Laurel. In order to solve this puzzle, you must determine which tunnel the bird should take to reach above ground.
[edit]
Messages
[edit]
When Failed
Too bad.
Carefully trace each path to see where they lead.
[edit]
When Completed
Very nice!
The bird can safely escape her underground confines by following tunnel B. Any other tunnel will lead her deeper underground or into the mouth of a very hungry snake.
[edit]
Solution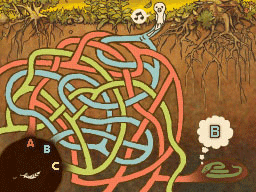 Tunnel B will take the bird above ground.
[edit]
Progress
670 Picarats and 52 Hint Coins.