DB037 - World's Best Golfer
This is the thirty-seventh puzzle you will encounter in Professor Layton and the Diabolical Box. To access this puzzle, you must talk to Kostya. In order to solve this puzzle, you must determine the fewest number of strokes the golfer must make to get the ball into the hole.
[edit]
Messages
[edit]
When Failed
Too bad!
Remember, this is a pro golfer we're talking about. He can do some pretty amazing things.
[edit]
When Completed
Good job!
If our friend the pro golfer putts two diagonal shots as shown above, he can sink the ball in two shots. No one ever said the golfer had to putt directly toward the hole, did they?
Sure, in order to sink the putt using the method shown above, he'd need to calculate the angle of each shot perfectly...but that's probably why he's a pro.
[edit]
Solution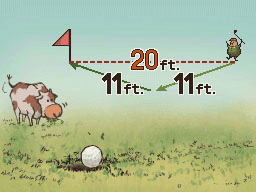 It will take a minimum of two putts to sink the ball.
[edit]
Progress
735 Picarats and 56 Hint Coins.