DB040 - The Tiled Box
This is the fortieth puzzle you will encounter in Professor Layton and the Diabolical Box. To access this puzzle, you must talk to Madeline. In order to solve this puzzle, you must reassemble the pattern of the box using the boxes as guides.
[edit]
Messages
[edit]
When Failed
Too bad!
Try to visualize the box when it has been unfolded.
[edit]
When Completed
Good job!
Was it hard converting the 3-D shape of the box into a flat 2-D image in your head?
[edit]
Solution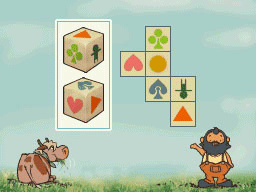 Place the tiles as shown.
[edit]
Progress
1245 Picarats and 72 Hint Coins.