DB042 - Board Splitter 1
This is the forty-second puzzle you will encounter in Professor Layton and the Diabolical Box. To access this puzzle, you must talk to Balsa. In order to solve this puzzle, you must cut the board into two pieces to form a square.
[edit]
Messages
[edit]
When Failed
Too bad!
Are you sure that the way you've split the board will allow you to recombine the pieces into a square?
[edit]
When Completed
Excellent!
Easier than it looks, isn't it?
[edit]
Solution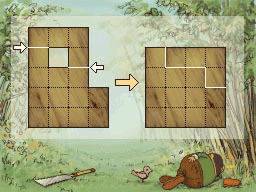 Cut the board as shown.
[edit]
Progress
1005 Picarats and 72 Hint Coins.