DB044 - Tangled Ropes
This is the forty-fourth puzzle you will encounter in Professor Layton and the Diabolical Box. To access this puzzle, you must talk to Remy. In order to solve this puzzle, you must determine how many rope loops will be caught in the red rope if it were to be pulled to form a knot.
[edit]
Messages
[edit]
When Failed
Too bad!
Make sure you examine every detail of the picture carefully!
[edit]
When Completed
Good thinking!
Not a single loop will become truly entangled in the knot that forms. When you pull the red rope and form a knot, one loop will fall away, and the other two will hang from the red rope, free of the knot.
[edit]
Solution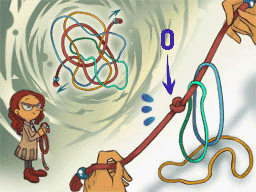 None of the loops will become entangled.
[edit]
Progress
980 Picarats and 72 Hint Coins.