DB048 - Who's Mr. Anderson?
This is the forty-eighth puzzle you will encounter in Professor Layton and the Diabolical Box. To access this puzzle, you must try to leave the area. In order to solve this puzzle, you must use the clues to locate Mr. Anderson.
[edit]
Messages
[edit]
When Failed
Too bad!
Think hard about the clues you've been given and try again.
[edit]
When Completed
Good eye!
It looks like the wind tried to carry off Mr. Anderson's hat!
[edit]
Solution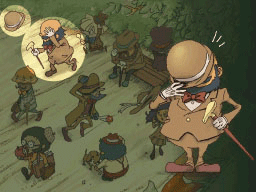 Circle Mr. Anderson as shown.
[edit]
Progress
1120 Picarats and 72 Hint Coins.