DB049 - A Royal Show-off
This is the forty-ninth puzzle you will encounter in Professor Layton and the Diabolical Box. To access this puzzle, you must talk to Madeline. In order to solve this puzzle, you must determine which of the king's purchases he wanted his subjects to buy one of for themselves.
[edit]
Messages
[edit]
When Failed
Too bad!
If you wanted to show off your brand new purchase, which of these items do you think would be the hardest to show off properly?
[edit]
When Completed
That's correct!
The telephone is the answer. After all, a phone isn't much fun if there's no one on the other end.
[edit]
Solution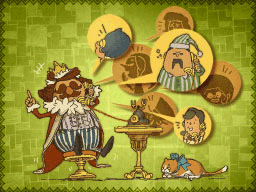 The king asked his subject to buy a telephone.
[edit]
Progress
1265 Picarats and 72 Hint Coins.