DB054 - Painting the Flag
This is the fifty-fourth puzzle you will encounter in Professor Layton and the Diabolical Box. To access this puzzle, you must talk to Kostya. In order to solve this puzzle, you must determine how many different designs can be painted onto the flag without having two adjacent sections being the same color.
[edit]
Messages
[edit]
When Failed
Too bad!
Give the puzzle another try.
[edit]
When Completed
Sharp thinking!
Once you incorporate the white color of the unpainted flag into your designs, you actually have four colors you can work with. If you assign a color to the left third of the flag and list all designs possible, you get a total of nine variations.
Multiply this number by four, which represents the number of colors at your disposal, to get the answer: 36 variations.
[edit]
Solution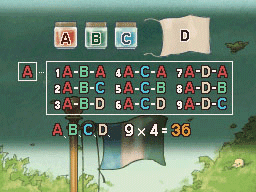 There are 36 different variations that can be created.
[edit]
Progress
1215 Picarats and 72 Hint Coins.