DB059 - A Ticket to Where?
This is the fifty-ninth puzzle you will encounter in Professor Layton and the Diabolical Box. To access this puzzle, you must watch the cut scene. In order to solve this puzzle, you must determine which number was printed in the space that is now cut out.
[edit]
Messages
[edit]
When Failed
Too bad!
To solve this puzzle you'll need to do something to the ticket that allows you to connect the two rows of numbers in some fashion.
[edit]
When Completed
Excellent!
The missing number is 2.
If you fold the ticket as shown and line up the two sets of numbers, they form letters that spell out the phrase "FOR FOLSENSE." It looks like the ticket's destination was there all along!
[edit]
Solution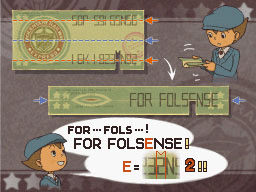 The missing number is 2.
[edit]
Progress
1440 Picarats and 76 Hint Coins.