DB060 - Plaza Puzzle
This is the sixtieth puzzle you will encounter in Professor Layton and the Diabolical Box. To access this puzzle, you must talk to Rory. In order to solve this puzzle, you must divide the plaza into two identical shapes by using only one line.
[edit]
Messages
[edit]
When Failed
Too bad!
Focus on the term "one line". There's a hint somewhere in there.
[edit]
When Completed
Nice!
If you draw a circle around the plaza about one-third of the way out from the middle, your line will divide the doughnut into two identically shaped figures that are directly proportional. In geometrical terms, shapes like these are known as similar figures.
[edit]
Solution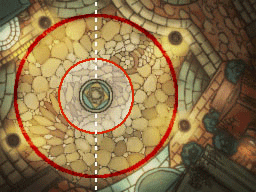 Draw a line as shown.
[edit]
Progress
1830 Picarats and 118 Hint Coins.